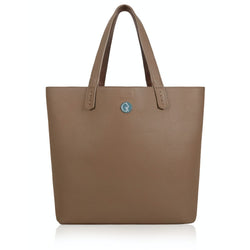 UK SHIPPING IS FREE.
WORLDWIDE CUSTOMS AND DUTIES ARE PREPAID.
Free Returns on all UK Orders.
The reversible vegan tote by Giovanna Sessi-Knott, designer of The Morphbag by GSK, has been created to adapt to the styling needs of the modern woman.
This versatile tote comes in colour coordinated contrast colours that have been carefully selected to work with the main colour groups of any capsule wardrobe: black, neutrals and navy.
The tote can be accessorised with a matching cross-body/shoulder handbag and clutch/wallet. Bought in a set (instead of individually), you can enjoy a -25% discount on the award-winning trio that gives ultimate colour-coordinated versatility to the stylish woman whose day does not fit in one handbag.
Sizing: Please check the size of relevant products over here
Material: Ethical recycled PU Leather, PETA certified, Vegan Society Trademark
Packaging : Boxes: FSC certified, biodegradable, compostable, waterbased ink
Drawstring bags: Fairtrade and GOTS certified organic cotton
Care: Wipe clean and keep it moisturised. You can disinfect with anti-bacterial wipes but baby wipes will keep the PU leather moisturised and regular use of baby wipes will prevent the leather from cracking.
PU leather is oil-based and waterproof but if the item gets wet, please dry it with a cloth and moisturise it thereafter (baby wipes work well).
Avoid: direct sunlight, storage in humid places and extreme temperatures as it will make the leather dry out.
One tree planted in the Amazon Rainforest with every handbag purchased 
Upon receipt of your order, GSK Bespokedesigns LTD will send your Morphbag straight to you by courier.
SHIPPING RATES:
United Kingdom 
FREE NEXT DAY COURIER DELIVERY (Monday to Friday Service) 
EU
Flat Rate of £10

we carry your duty and customs charges

so that you do not have any surprises and do not suffer any delays
USA / Canada
Flat Rate of £20

we carry your duty and customs charges

so that you do not have any surprises and do not suffer any delays
Rest of the World
Flat Rate of £35

we carry your duty and customs charges

so that you do not have any surprises and do not suffer any delays
DELIVERY TIMES:
DHL Express delivers
UK next working day
EU 3-5 working days
Rest of The World 7-10 working days
Please note that due to the pandemic and inclement weather in some parts of the world, delays in deliveries are possible.
AS SOON AS YOUR ORDER IS SHIPPED. YOU WILL BE NOTIFIED BY E-MAIL WITH A SHIPPING CONFIRMATION. THAT CONTAINS A TRACKING NUMBER FOR YOUR CONVINIENCE.
If you wish to exchange or return your purchase, kindly inform us via email within 14 days of receiving your order and we will arrange for a free return (Please note that we can only offer free returns wthin the United Kingdom).
No returns or exchanges are accepted after this time.
Please email help@themorphbag.london with the subject line: "Return of order" and your order number and we will be in touch advising you of the next steps.
For further information see our terms and conditions page here.
Bought into the 2 in 1
The reversability feature was the main attraction to me, when I placed my order. It is very cool and both shades of brown are beautiful. Reversing it is tricky though and not a quick thing. In all fairness, the tote has structure and stands up ( not flimsy), which may add to the challenge reversing it. Maybe it is a matter of practice?